EOD Workspace
EOD Workspace is an open architecture operating environment for marine robots working in MCM / EOD operations. Based on OPENSEA, it is open architecture so that it can easily accept new technologies and scale as the needs of the operators evolve. EOD Workspace provides an integrated navigation, auto-pilot, mission planning, and sensor fusion platform.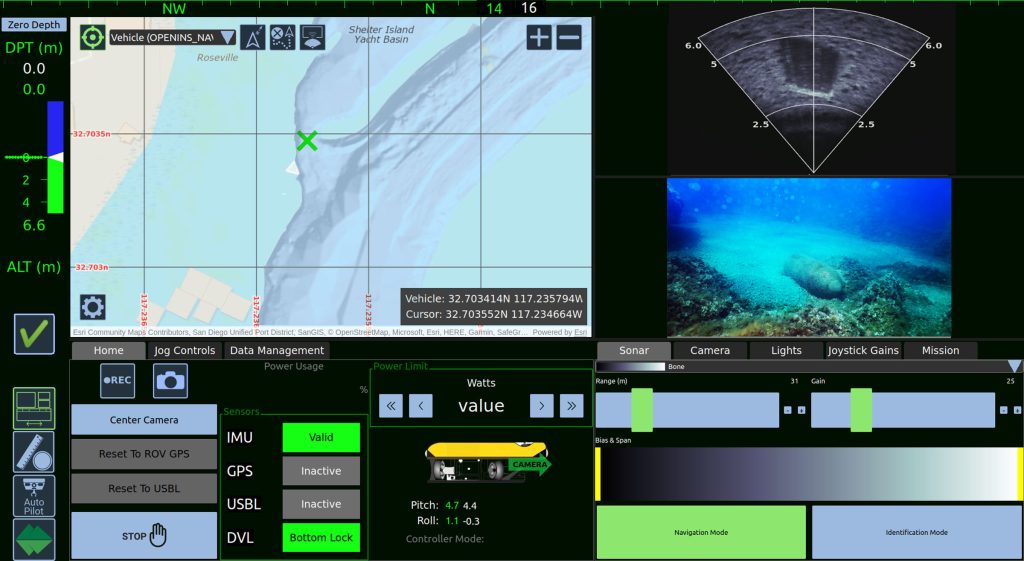 EOD Workspace is the core operating platform of Greensea's EOD technology portfolio. Modular plugins provide for additional payload control, acoustic communications, USV integration, tetherless operation, Automatic Target Recognition (ATR), and full autonomous operations for MCM / EOD missions.
Also available is EOD Workspace Simulator, a powerful training tool to develop and maintain proficiency with EOD Workspace and the VideoRay MSS Defender without utilizing an actual ROV or requiring any in-water activities.
Key Features
Built on OPENSEA, open architecture software
Vehicle and hardware agnostic
Robust framework for new technology insertion
Open platform for multi-asset coordination
Comprehensive ROV navigation and control solution
Native and integrated software, not "add-on"
Payload and platform integration
Control, navigation, and operator interface
Supervised autonomy and Task-based autonomy
Aids pilot operation and performance
Autonomous EOD tasks: Search, inspection, engagement
Integrated perception and payloads
Native support for video and sonar
Integrations for multiple payloads
Extendable through open interface
Emerging technology support
Preserves technical investments
Scalability
Greensea offers several modules for EOD Workspace that can extend the functionality of the basic EOD Workspace system
Long range standoff command and control including tetherless seafloor to over-the-horizon communications
USV integration
Perception processing at the Edge
Advanced platform autonomy
Battlespace integration
Explore EOD Workspace:
Videos:
Contact Us about EOD Workspace